It's National Nursing Home Week | Daily Democrat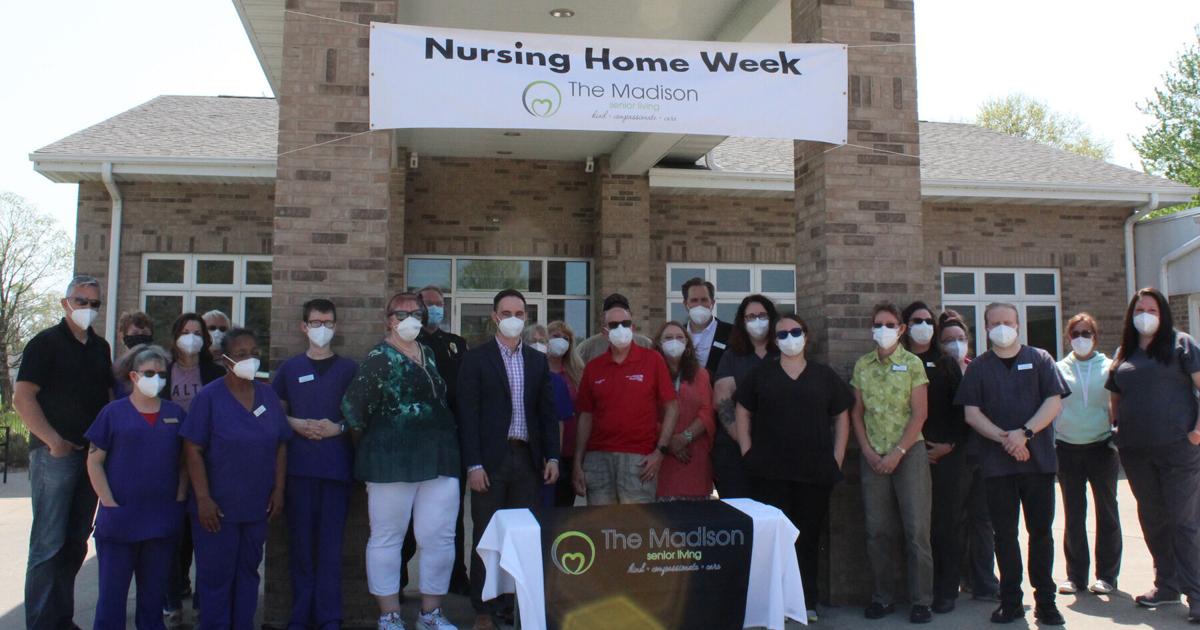 Millie Schulz is 106 years old and is nicknamed "the boss" among the Madison staff.
She was among residents at the facility listening to updates from Fort Madison officials on Tuesday as part of The Madison's celebration of National Nursing Week.
"It's a great week to celebrate our healthcare heroes. The last two years of the pandemic have been difficult for everyone involved, including law enforcement, EMS and everyone else, and the community," Madison Administrator Holden Granstaff told officials and guests attending a brief ceremony.
Mayor Matt Mohrfeld said Madison's staff continuity is impressive. Many of those introduced on Tuesday are over 25 to 30 years old with the installation.
"It says a lot not just about what you're doing here, but who owns it," Mohrfeld said of Mark Holtkamp, ​​who purchased Madison and Montrose Health Care Center from Inhance Corporation in 2020.
Holtkamp, ​​a developer operating out of Solon, is the son of Larry and Rita Holtkamp of Fort Madison and a 1994 graduate of Aquinas High School.
It officially took possession of both properties on March 1, 2020, and in April 2021 announced plans to nearly double the size of the facility with an addition of 34,000 square feet. This is to add 24 new senior living units and 12 more memory care units.
"I can't wait for this to be off the grass field and for us to take the next step in this business model," Mohrfeld said, referring to the upcoming expansion.
Mohrfeld said Madison's future multimillion-dollar expansion and its current services are a critical part of his Grow Fort Madison plan to increase the city's population by 1,000 over the next four years.
"If that facility wasn't there, Fort Madison couldn't grow, we couldn't provide services to the people of Fort Madison."
Mohrfeld said the personalized and individual care the Madison, as well as the Montrose center, provides has made them essential parts of the community.
"Every one of you here knows that every person here is not a resident of a nursing home, it's an individual. What you do, at all levels of care, that you be in catering or management, what you do is individual to that person.It's someone's mother, someone's father, someone's son.
In Mille 'The Boss' Schulz's case, she is the grandmother of Fort Madison Councilman Tom Schulz.
Brian Wright, who started a few months ago as community outreach coordinator for both facilities, said that commitment to individual care often comes through in the testimonials and feedback he receives.
"What stands out the most is that it's like a family atmosphere. That's what the residents said and what the staff said. I think that's the most important thing here is that it's family management to residents. We work for them, but many don't have families, so we are that bridge for them.
After the outdoor rally, Mohrfeld, Police Chief Mark Rohloff, Fire Chief Joey Herren, Fort Madison Partners Director Tim Gobble and Chamber of Commerce Director Savanna Collier entered the inside to give Madison residents updates on what's happening in the city.
There, residents heard about the redevelopment of the marina; the continued expansion of the PORT trail network; the ongoing reconstruction of Highway 61 through the city; and plans for the former Iowan property to become the headquarters for the new county health department/ambulance service.
Residents then had the opportunity to ask questions of the officials.
"Are they doing to start demolishing some of these old houses that are rotting. They are fire traps," Madison resident Mike Eberle asked.
Mohrfeld explained that the city has identified 400 dilapidated or vacant properties in the city, or 8% of buildings in the city.
"They have to go. They either need to be redone, removed or replaced and we started down that road. Over the past 2 years, about 20 of them have been dismantled. Some of those numbers are because that trailer park down Hardees is now gone. It is now a storage unit that is on the taxpayer roll.
Mohrfeld said vacant properties account for three-quarters of the fires in the city.
Residents were also informed of the city's downtown revitalization efforts. Gobble said many talk about how downtown "used to be," but like most downtowns, shopping habits have changed to online options and malls.
He replied that downtown Fort Madison was filled with one-of-a-kind boutiques and specialty shops. He said that over the past two years, about 18 to 20 new businesses have moved downtown.
"We currently have no vacancies with regard to usable buildings. We currently have no properties available for anyone wishing to come downtown," added Collier. "We have a few or three or four dilapidated structures that need to be completely overhauled. It's kind of cool that we don't have anything available, so it's not a ghost town anymore like people thought.