Shifting Supply Chain Strategies: Near Supply and Just-in-Case Modeling Now Dominates Industrial Real Estate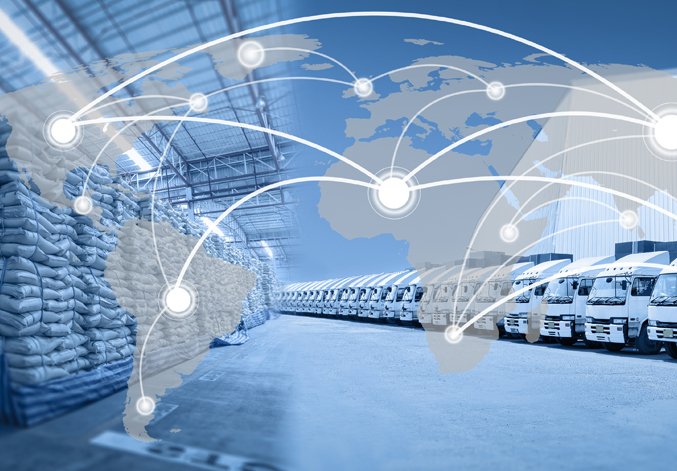 In today's economy, businesses of all sizes are seeing the need to reevaluate their supply chain strategies to stay agile and meet distribution demands. Two key factors are needed for success: resilience and preparation.
Companies are moving from a just-in-time inventory model to a just-in-case model and they are also increasingly focusing on near sourcing – the process of sourcing materials near where they are made. and closer to demand nodes and end users. Expect this for the production of semiconductors and other technology components, as well as automobiles and parts, medical supplies and pharmaceuticals.
These changing supply chain strategies are influencing how occupiers approach industrial real estate. They are taking on larger real estate footprints at the same time as industrial vacancy rates are at their lowest on record. This in turn means increased rental rates for tenants.
Factors Influencing Today's Supply Chain Decisions
Several factors are driving organizations to review their current supply chain strategies:
The acceleration of e-commerce: Although the United States has been slower to adopt e-commerce than Europe and Asia, e-commerce sales exploded at the start of COVID-19, reaching 21.6% of total retail sales in mid-2020. They are still above pre-pandemic levels at 20%, according to CBRE research. As consumers continue to buy more and more goods online, e-commerce will continue to grow this year and in the years to come.
Continued outsourcing to third-party logistics companies (3PL): In order to alleviate space and labor issues, more and more companies are outsourcing their supply chain to 3PLs. In fact, 3PLs were the most active lessors in 2021, nearly doubling their rental volume to 121 million square feet, according to CBRE.
Although 3PLs try to match their leases with the contractual terms of their clients, this is becoming increasingly difficult for them to achieve. Many industrial landlords now require minimum lease terms of 10 years and many 3PLs assume this risk. To this end, 3PLs offer their customers a shorter term lease despite market conditions.
Pandemic-related supply chain disruption: The pandemic has shed light on the risks of global supply chains, from sourcing materials to manufacturing them overseas. A good example is the chip shortage that we have all heard so much about.
The average wait time for materials used in the manufacturing process was a month longer in March 2022 than it was in March 2021, according to the latest Institute for Supply Management survey. Today, organizations practice local sourcing and diversify their suppliers while maintaining more inventory.
Labor shortages (port workers and truckers): RBC Capital Markets reports that 77% of the world's 22 largest ports are currently experiencing delays related to labor shortages.
Transport costs: Freight costs and rates have increased significantly due to fuel prices, inflation and the conflict in Ukraine. The cost of shipping goods by ocean freight has increased by more than 200% in 2021 and the cost of inland freight has increased by more than 40%, according to Drewry Supply Chain Advisors and the Cass Freight Index.
Transportation costs typically make up 50-70% of a company's total logistics spend, according to a CBRE supply chain advisory, while fixed costs (including real estate) make up just 3-6% . It takes about an 8% increase in fixed costs to equal the impact of just a 1% increase in transport costs.
The tightest industrial real estate market
In most primary and secondary markets, developers can rarely create industrial products to meet demand. Last year, occupiers leased an unprecedented amount of industrial space with net uptake exceeding expectations at more than 496 million square feet, according to JLL reports. For the first time in history, industrial vacancy fell below 4%, with 2021 ending with a vacancy rate of 3.8%.
Rents also continue to trend upward, with average asking rents reaching $7.11/sqft at the end of 2021, an 11.3% year-over-year increase. Demand isn't the only factor contributing to rising rents today; 30% higher construction costs also fuel the fire. At the same time, many landlords are demanding annual rent increases of 4% due to growing inflation pressure.
As rates rise nationwide, some markets are feeling it more than others. New Jersey and California record the highest rents. Any business facing renewal in the next 36 months is likely to face a 50-100% increase in these markets.
Ultimately, these increased costs are passed on to the consumer. But, as long as consumer demand remains strong, companies can continue to absorb the higher cost with incremental increases in their products.
Developers have completed nearly 304 million square feet of new industrial space throughout 2021, according to JLL. Despite ending 2021 with over 467 million square feet under construction – a 70% increase from year-end 2020 – there is no risk of overbuilding.
Most of the buildings intended for a specific development are let before their completion. Nearly two-thirds of the product delivered in 2021 was pre-released, compared to 45% in 2020 and 50% in 2019, reports JLL.
While occupants shouldn't take up more space than they need, they should understand their space needs for at least the next three years, especially with hard-to-find industrial real estate, not to mention of the high price.
By preparing and leveraging data analytics, industrial occupiers can act when the time is right and the perfect real estate opportunity presents itself.
---
Bob Mohr is the founder and chairman of Mohr Capital.